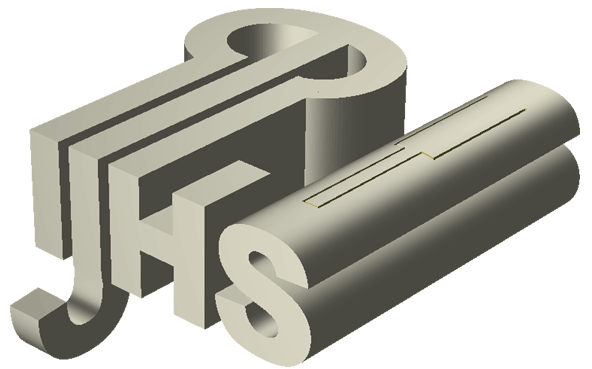 International Jew's Harp Society
HONORARY BOARD MEMBER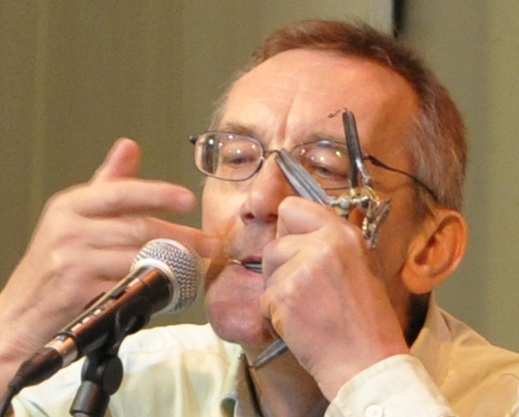 Michael Wright
Born 19 August 1946 in Leicester, Great Britain.
Michael was first introduction to the jews-harp Christmas 1968, when his brother, John, gave him and his younger brother, David, a jews-harp each along with a cassette tape of tunes as Christmas presents. Over the next year by constantly listening and trying to copy the recordings – and much to John's surprise when he returned the following Christmas – they both could play. In fact, at least two of those tunes were recorded as the Wright Brothers on the Topic Records, 'The Lark in the Clear Air' (1974).
His years at Newcastle-upon-Tyne studying Fine Art brought Michael into contact with many fine musicians, including one 'gew-gaw' player, Colin Ross. The influence of the music he heard at that time was to return much later as, shortly after the 1974 recording, Michael gave up the jews-harp due to work and family commitments, though was asked on a few occasions to record for the radio, one being for a BBC Radio play. For the next eleven years he was a sculptor and designer at Madame Tussaud in London, before moving to York and developing into an Interpretive Designer, writing briefs for designers to create exhibitions. Major exhibitions include: 'British Life Today' (Kiev) and 'Columbus '92' (Genoa) for the British Foreign and Commonwealth Office; one third of LEGOland Windsor for LEGO; writing the concept for a Millennium Fund bid for the National Space Science Centre in Leicester. This interpretive writing skill was to prove invaluable in the years that followed.
In 1992 John invited his brothers to perform for the first time together in nearly twenty years at a concert in Paris. By the mid-1990s, having been a freelance Interpretive Designer for a couple of years, Michael turned his back on the exhibition world, and it was at this time that he became interested in researching the jews-harp. Playing the instrument at folk clubs the two questions he was constantly being asked was 'Where does it come from?' and 'Why is it called a jews-harp?' To begin to answer these two fundamental questions, John suggested getting in touch with Frederick Crane. Fred's enthusiasm and knowledge, and the influence of John's work on 'Les Guimbardes' (Musée de l'Homme, 1978) inspired Michael to dig further into the history of the jews-harp, an interest that culminated in 'The Jews-Harp in Britain and Ireland' (Ashgate Publishing, 2015, part of the SOAS 'Musicology Series'), which includes recordings by the whole Wright Family made at the SOAS Studios between 2007-2008.
Whereas John's focus was on the organology of the jews-harp, Michael's has always been interested in its cultural and social history. It fascinates him to understand how it is that you hold a jews-harp in your hands. It had to be made, shipped, stored and sold by someone. These were just the sort of questions that needed to be asked when he was an Interpretive Designer and led him to write a number of articles for the JIJHS, and to have two peer-reviewed articles published: 'The Jew's Harp in the Law' (Folk Music Journal, 2008); 'The Jew's Harp In Colonial America' (Galpin Society Journal, 2011). As of writing, Michael's contributing chapter to a book on the 'Cultural History of Musical Instruments in Scotland' is with the Editor.
In the end, Michael considers that he is, and always has been, a storyteller.
Musically Michael can only play the jews-harp, though he also enjoys singing. His influences are mainly the traditional music, and, having moved to France in 2014, he now also plays French dance music with the group 'Bulles d'Air'. For Michael the jews-harp is like any other musical instrument – to be played as and when and in a style that is most appropriate to the musical story he wants to tell, using its melodic, atmospheric or rhythmic qualities as necessary. These were the qualities Michael explored in his album 'Sleeping Pedlar' (2017).
Other related topics include: Trustee and on the National Committee of the English Folk Dance and Song Society (2004-2007), of which he was the Chair for the last eighteen months; organiser of 'Oxford Firsts' (2007), the first conference and concert dedicated to the jews-harp in Britain to his knowledge, and included Michael playing Albrechtsberger's Concerto in D with a small Baroque ensemble; taking on the role of General Secretary of the IJHS (2007-2013); attending the IJHCs at Amsterdam, Yakutsk and Taucha; invited guest at The Elphinstone Institute 'Squeeze-box and Moothies' conference and concerts (2010, 2013, 2016); running workshops at numerous festivals; giving various talks and papers over the years; He is the current Editor of the JIJHS, working with Harm Linsen as Assistant Editor.
Website: https://jewsharper.wordpress.com/
Sleeping Pedlar:
Sound for Health: https://www.soundforhealth.com/products/sleeping-pedlar-michael-wright-cd
Digital download: https://itunes.apple.com/gb/album/sleeping-pedlar/id1246726080