Yakutian master player Spiridon Shishigin remembers master jew's harp maker Bernard Lalanne-Cassou through his personal memories after his sudden and sorrowful disappearance.
On February 20, 2023, Bernard Lalanne-Cassou, a lover and connoisseur of the jew's harp, a jew's harp player, a master jew's harp maker, a renowned entomologist, a true friend and a very kind person, left us forever.
We first met him in Paris in 1992 during the opening of an exhibition of photographs about Siberia, organized by scientist Boris Shishlo, where I played the khomus with the virtuoso of the world John Wright and Trang Quang Hai.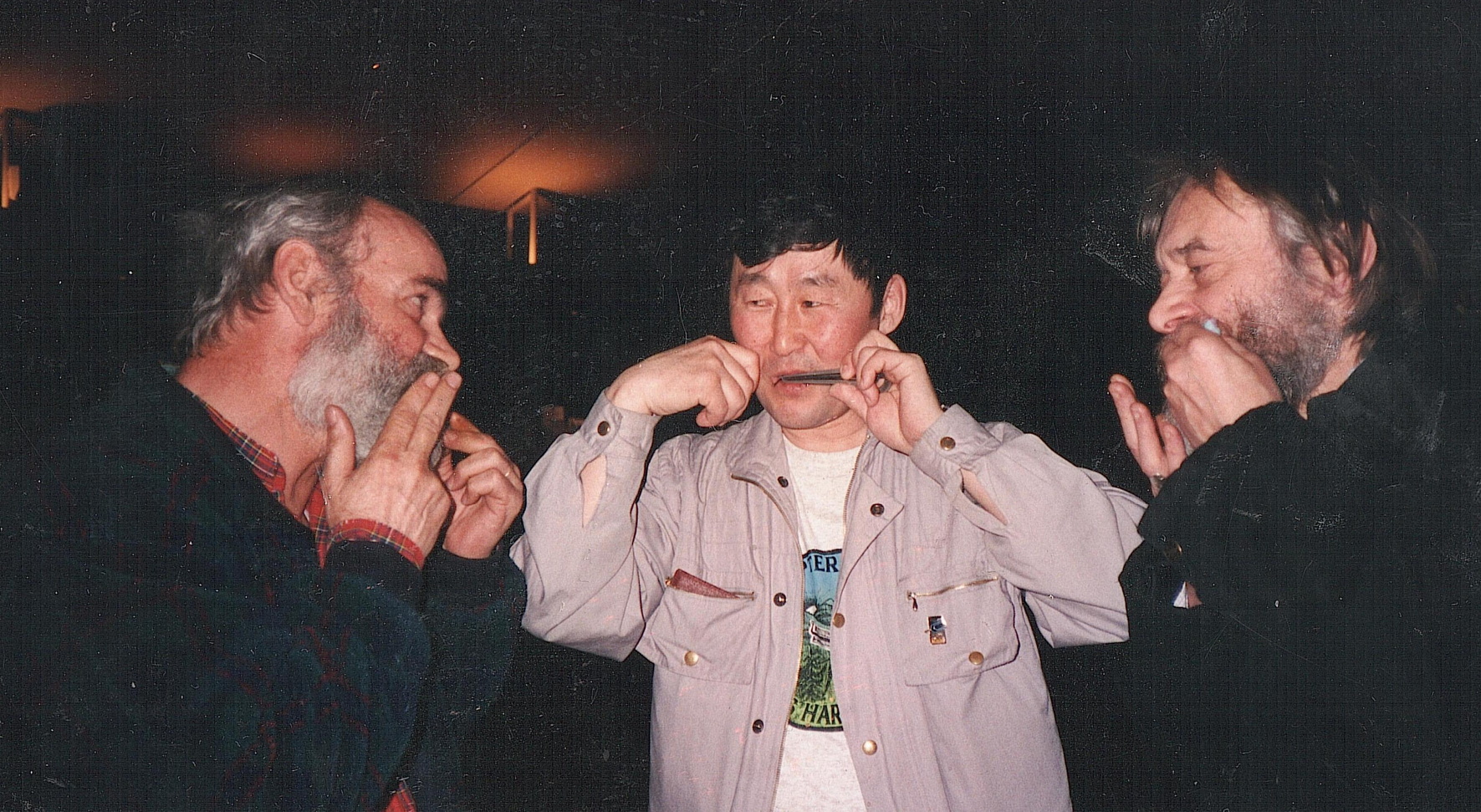 The second time we met was also in Paris, in April 1996. After my performance at a concert, Jean Pierre Drouet invited me after working together on the musical design of the Russian-French film "Shaman" directed by Bartabas. If the first time we just brifly met, the second we talked closer and even exchanged each other's instruments.
That French "guimbarde", made by him, is one of the first European jew's harps in my collection and so occupies an honored place in my personal box of jew's harps from Europe. Now in my collection there are some amazingly melodious guimbardes of my dear friend, because at every meeting Bernard gave me a new one. During performances at concerts, I always play one of my friend's instruments. Because by playing them I get great pleasure from the amazing overtones that can be produced. They are not loud, sometimes barely audible, but convincingly exciting and enchanting to any listener. When I play them I see again the kind eyes and a little embarrassed smile of my humble friend Bernard and probably extract his feelings and wishes experienced by the master during the manufacture of the instrument.
Since then, when I came to Paris, I always stayed in Bernard's hospitable house, where we were surrounded by his attention and care, his wife, the beautiful Jeanne, also a kind person who radiated optimism. And although I did not know French or English, and he did not know Yakutian, Russian or German, we were able to communicate and understand each other. We played the jaw harp, met mutual acquaintances, and arranged evenings of jew's harp music at their home. Bernard played the instrument perfectly.  He was a true lover and connoisseur of jew's harp music, but to my great regret, my humble friend never performed with me at concerts, although he never missed my concerts in Paris. If I had free time, he always took me to the sights of Paris.
I found out that he was an entomologist when he came with his brother Christian and John Wright to visit me in Pokrovsk, Sakha-Yakutia. He brought a butterfly net with him, and I would have loved to have such one in my childhood, when we almost manually caught butterflies, chasing them in the summer heat from morning to evening! Then Bernard came with a broken foot and I gladly helped him catching butterflies, returning to a distant childhood. Mikhail Semenovich Grigoriev, a resident of the village of Tit Aryy, accompanied us at my request. He prepared on open fire the tuguns, a Siberian fish, which we had just caught on the banks of the Lena River near the Lena Pillars. In the meantime, I caught several small butterflies of bluish-brown color with a gray tint to the outside of the wings. It turned out that none of the scientists had ever caught such butterflies. Upon arrival at home, Bernard proved that this was a new species of butterflies and called them Rock-Lycaenidae named after Shishigin! Although he had every right to call it by his name. After all, I only helped him catch, which was not difficult at all with his huge and very comfortable, well-worn net, which he later gave me.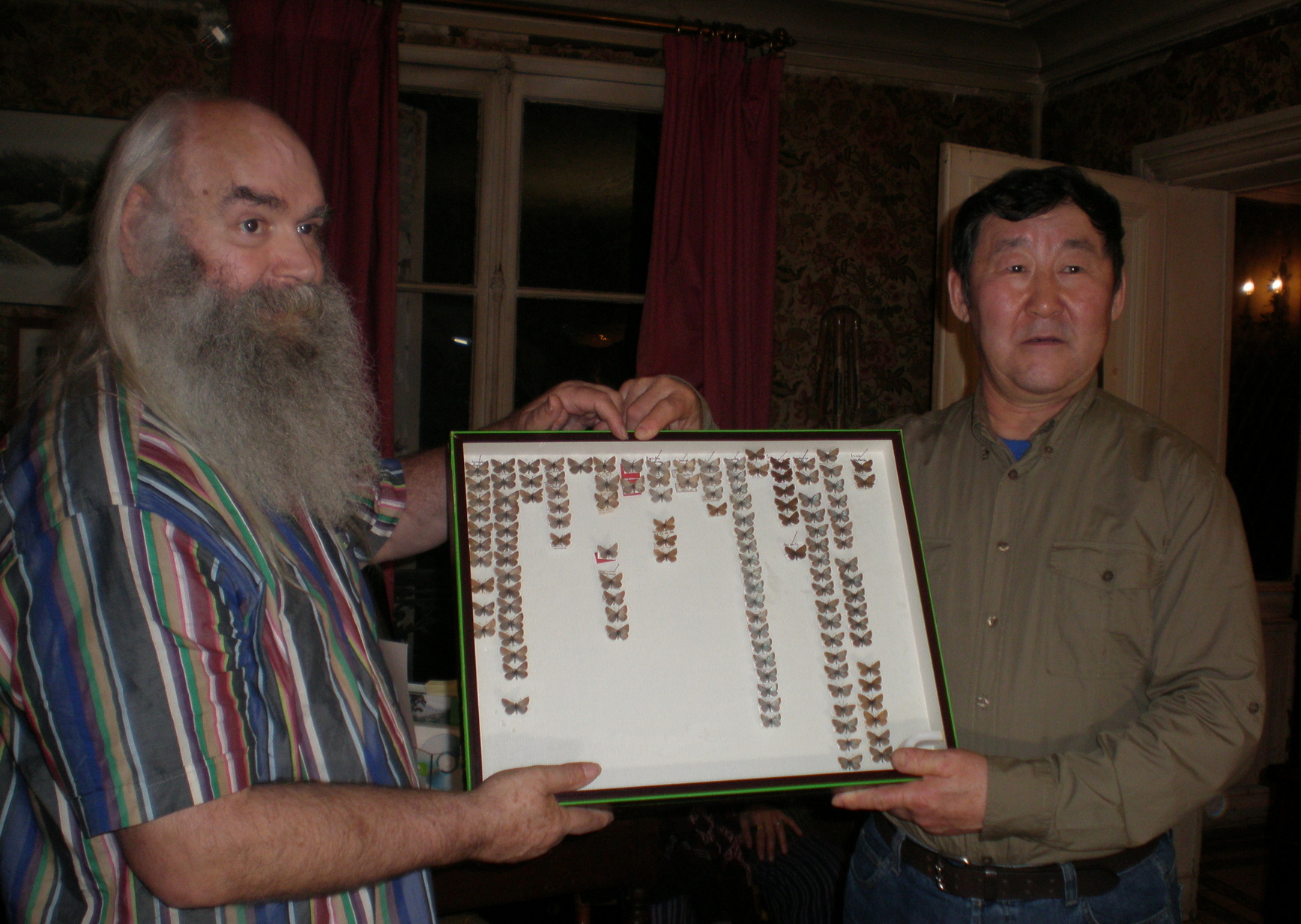 Since then, I've had great pleasure in catching for him the butterflies of our neighborhood, helping a friend in his scientific work to study butterflies from around the world, and many butterflies from our area have been added to his huge collection. Once he took me to the institute where he worked and showed me what he does. As I understood, they are not limited to collecting and studying, but are very seriously engaged in the conservation of endangered species of insects. And he was a real expert in his field, who devoted all his free time to his favorite business. For this, he once came to Pokrovsk even on crutches!!! And when I took him to nature, he sat down in an ambush (the way we hunt) among the flowers and bushes and caught butterflies much bigger than we did!! And he went on to Oymyakon to catch the butterfly species that live there. And surprisingly he returned from there without crutches.
As a master of the jew's harp, he constantly improved his skills and, in the winter, when there were no butterflies, he was engaged in the manufacture of his guimbardes, trying to improve not only the sound, but also the appearance, always trying different materials. He treated the Yakut masters with great respect, he went with me to the village of Teligi to the workshop of Mikhailov Pavel Nikolaevich. When I came to him, he always listened to my playing on Yakut concert khomuses, proudly showed his new products and always gave me a choice of a newly made one.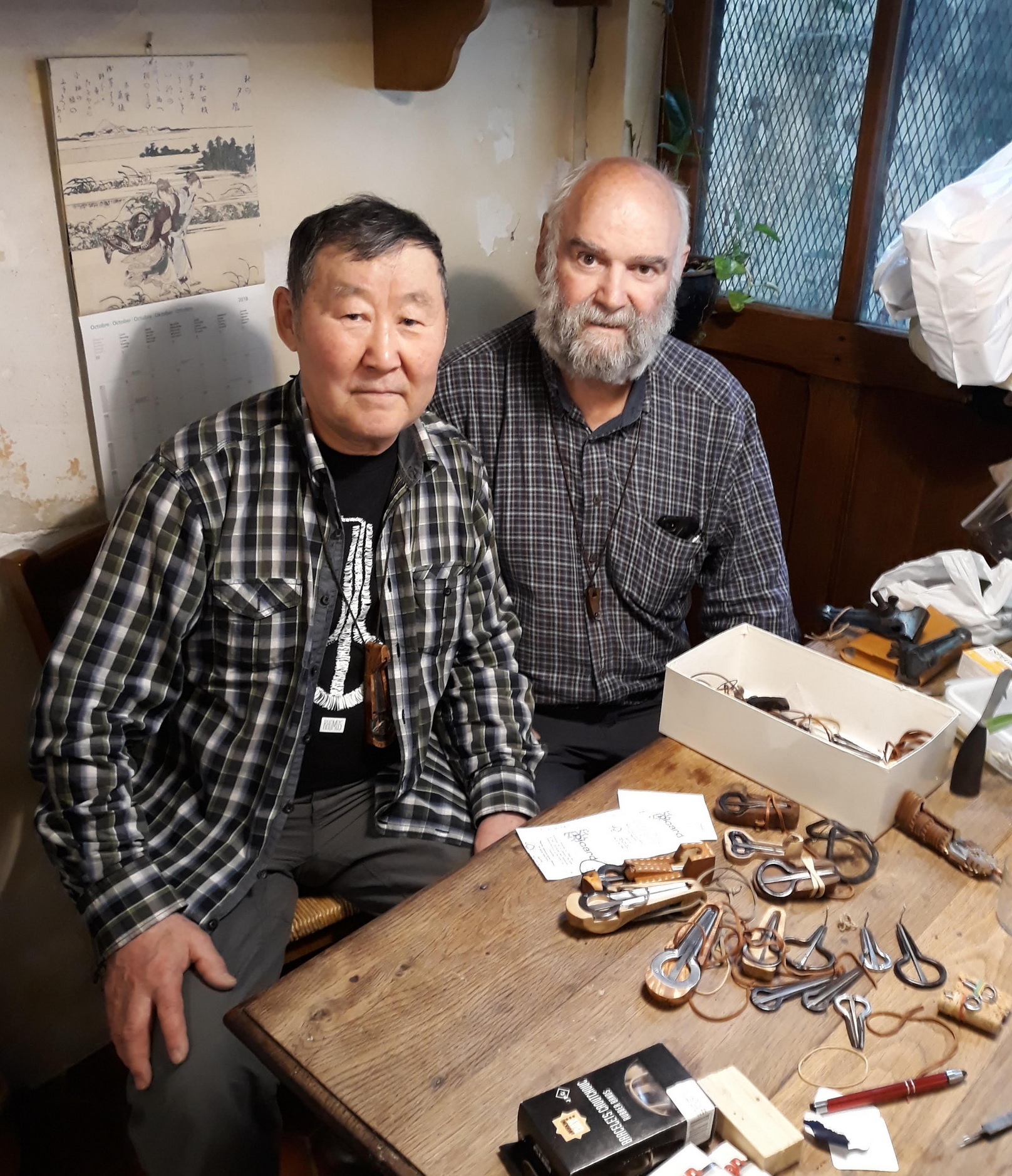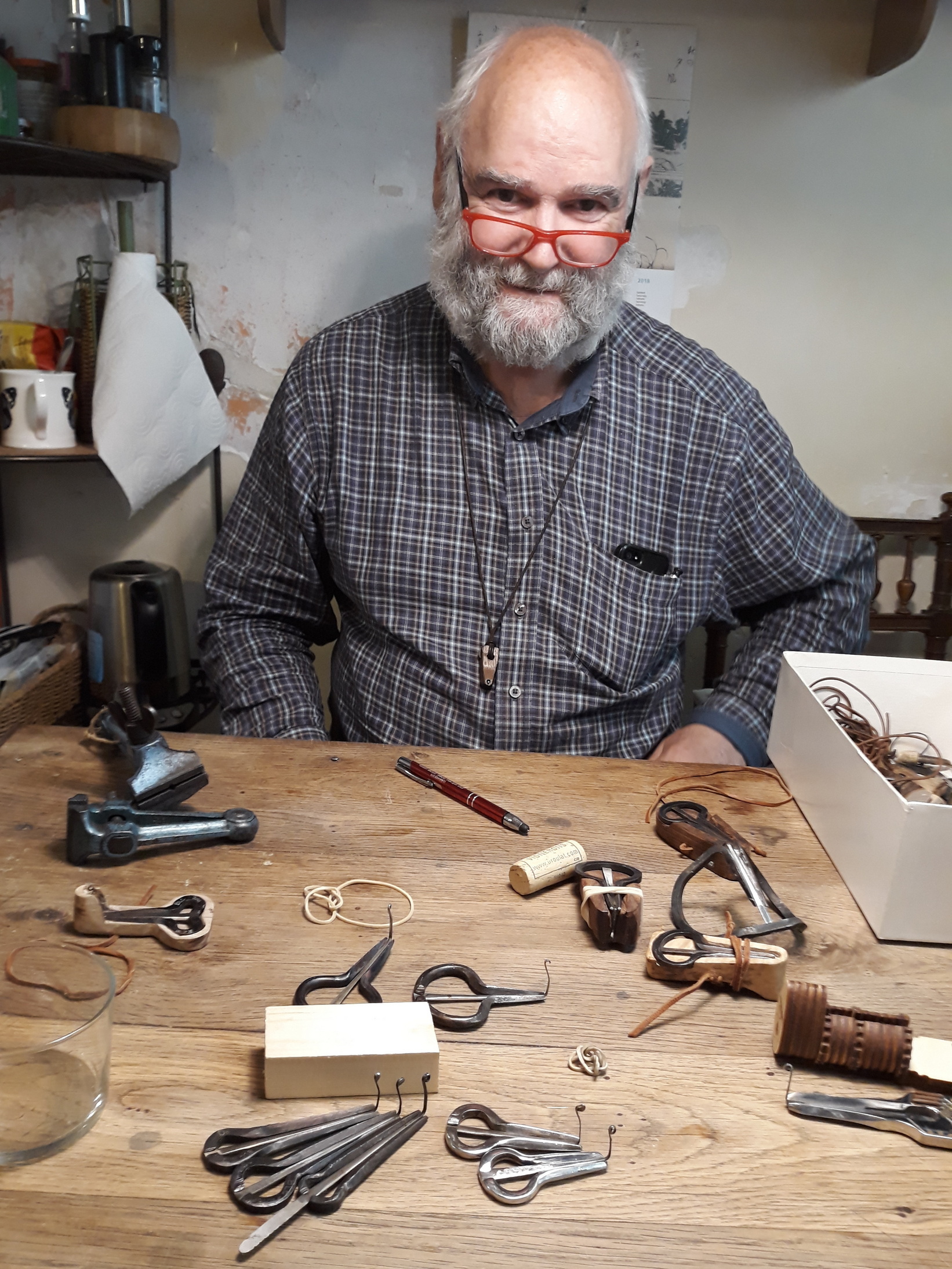 Lately, he hasn't missed the International Congresses and Festivals of our Society, he has been attending concerts with pleasure, and he always gave his instruments to the performers he liked. I'm very pleased that at my concert during the last Congress in Berlin last year I played his amazingly melodic guimbarde, and that I publicly thanked him for this instrument in front of the audience, gathered from all over the world.  I will give this instrument to our museum in Yakutsk, where the jew's harps of the peoples from all over the world are collected, so that the name of my good and faithful friend Bernard will be preserved for centuries for future generations!
            Spiridon Shishigin, khomusist-virtuoso of the world since 1991
            February 2023, Pokrovsk, Sakha-Yakutia
            (Translated by Franz Kumpl)